3/30/08
NEW! Australia & New Zealand tour dates in the live section.
10/17/07
New mixtape!
FREE DOWNLOAD ! GET IT HERE
14 new remixes featuring: Bun B, Biggie Smalls, Jay-Z, Slim Thug, Devin the Dude, Young Jeezy, T.I., Beanie Sigel, Pimp C, Ludacris, Young Buck, Saigon, Juvenile, Z-ro, Memphis Bleek, Kanye West +exclusive tracks from Despot and Beans...√


5/31/07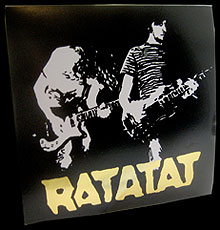 the loud pipes 12" single is out now! it's got previously unreleased loud pipes outtakes, a new b-side called goose, and a banging remix of kennedy by e*rock.
mailorder available from turntable lab
4/16/07
a great band called HEXA will be joining us for our Carrboro, Washington D.C. and New York shows.
3/18/07


dear kenyon,
we're really sorry we couldn't play at your school tonight. we really wanted to, but the school didn't have the necessary equipment to make it happen. hopefully we'll get the chance to come back soon.
3/11/07
Biggie Smalls - Party & Bullshit (Ratatat remix)
3/2/07
MORE US LIVE DATES ADDED!
we're coming back through the US, hitting lots of different cities this time around. The shows start march 14th and some of them are beginning to sell out (thanks for that!) so be sure to get tickets soon!

we'll be touring with some great bands: 120 days, professor murder, and despot
1/22/07
We're sorry to announce that the Birmingham (Feb. 1) and Newcastle (Feb. 5th) shows have been cancelled. If you already have tickets, refunds will be available from whereever you purchased them.

12/5/06
More US tour photos
11/25/06
Australia / New Zealand tour photos
11/15/06
Japan tour photos
11/5/06
More US dates announced.


10/30/06
Lex 12" singles out now! Features a remix from Mouse and Mars and the unreleased b-side "Truman"
mailorder available from: insound

tracklist:

side a:
Lex
Lex (Mouse on Mars Remix)

side b:
Truman
10/6/06
We were the first band ever to play a show at the Guggenheim Museum in New York!
Thanks to everyone at XL, Flavorpill, & the Guggenheim staff for making it happen.
See Photos
8/23/06
The people at Fader posted a nice feature on us...
read it here
8/22/06
CLASSICS RELEASED TODAY!
get it here
8/17/06
We're having a record release party this Thursday 8/17 in New York.
It's at the Hiro Ballroom at the Maritime Hotel
363 West 16th St. @ 9th Ave.
Free Admission w/ RSVP - event@gbh.tv
21+

Ratatat DJ set + fun & surprises!

8/08/06
"Classics" CD & LP now available for pre-order
(LP version comes in deluxe gold-embossed gatefold sleeve!)

8/08/06
Ratatat tour coming in September!!!
And we couldn't be more excited about the bands we're going to be playing with: The Envelopes are an amazing pop band from Sweden who put out a great record called "Demon" last year and have a new one coming soon.
Panther is the most messed up shit you'll ever dance to. He's got a new record coming this fall on Fryk Beat and its got this song called "tiger's touch" and you really just need to hear it.
7/28/06
Wildcat 12" singles are in stores! These singles are limited edition and packaged in super deluxe gold embossed sleeves.
mailorder available from: insound

tracklist:

side a:
Wildcat
Wildcat (E*vax Remix)

side b:
swisha
swisha drum instrumental
swisha guitar instrumental

5/20/06
The new Ratatat record is finally finished!
Thank you all for being so patient. The new album "Classics" is scheduled to hit stores on August 22nd.
In the meantime we will release a series of 3 limited edition 12" vinyl singles featuring tracks from the new album as well as some exclusive b-sides and remixes. The first is scheduled for release in late July.
In addition, Ratatat will be launching a full US tour following the album's release, starting on 9/5 at the Bowery Ballroom in New York City. Tickets for that show are on sale now. The rest of the dates will be announced shortly.
check out our new myspace page (new track posted!)
7/4/06